Grown Out of Playground: VR App Development Is Expanding Boundaries
The rapid progress, industrial revolution 4.0, innovative technologies - do not we all risk to become victims of the virtual world as a result? No risk, provided we keep in mind that any technology is created, first of all, by and for people.
Smartphones, fast Internet, Virtual Reality, Augmented Reality, Internet of Things: these concepts have become securely ingrained in our daily reality specifically because they facilitate, supplement, improve, and contribute. That means they help create the more comfortable environment for people to work and rest.
In this article, you will find the information that you lacked to take a decision, whether your business needs a VR application and whether the game is worth the candle.
Why have we chosen VR?
The technology has already lived through the successful history, is experiencing the productive present, and has a promising future ahead.
VR Past
Undoubtedly, the virtual reality in the form we know it now has not appeared by the wave of a magic wand but resulted from many years of hard work and experiments.
As a consequence, from the science fiction pages and episodes of the favorite movies, the virtual reality has arrived at our homes, ceasing to be anything exotic or unattainable.
VR Present
To what extent is VR popular with users?
According to Statista, as of the end of 2017, the total number of VR users in the world was estimated to be 90 million.
Currently, we are witnessing the period of the virtual reality rapid development thanks to the active contribution of such major investors as Facebook and Google.
The user today is offered a wide variety of accessories for VR immersion: from more expensive and complicated to simpler and cheaper ones.
PC and Console Headsets
excellent ergonomics
intuitive control
surround sound
hundreds of apps and games
$399 US
directed sound
realistic graphics
exact haptic feedback
$599 US
Mobile Virtual Reality
light headset and easy-to-use controller
daydream-ready are Pixel 2, Pixel 2 XL, Galaxy S8 & S8+, ZenFone AR, LG V30
$99 US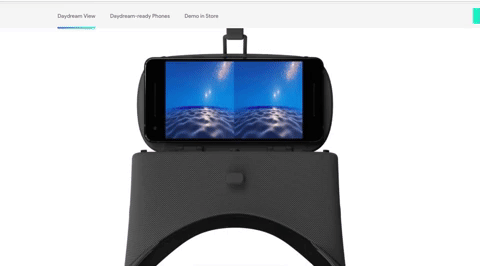 simple and affordable variant for using VR possibilities of your smartphone
maybe hand-made using the corresponding components
from $5 US
At the same time, the scope of the technology application is expanding. Games do persist, but there are many other fields for the virtual reality to make its voice heard:
Ford Reality Check is intended to demonstrate the danger of the driver distraction on the road. Mostly, it is addressed to young drivers apt to ignore the risk of driver faults that may prove to be fatal.
In the app, the user is immersed in the situation where, while driving, he encounters distractions (phone calls, talkative friends). Meanwhile, the app counts the time when the driver did not look at the road. Finally, the total result is summed up.
In the course of the first tests, 90% of those who used the application admitted that the experience makes them reconsider their driving behavior.
The list can be continued further on: the fashion industry presented an amazing VR video with Kate Moss; Google Earth VR offers dizzying tours around the most beautiful places and cities of the planet, etc.
It's high time to think what place your own VR application might occupy on the list. And if you have any ideas already, contact us and turn your plans into reality!
VR Future
Is this a glittering future that awaits VR?
According to Statista, video games still remain the main segment for virtual and augmented reality in 2020-2025. At the same time the segments of healthcare, engineering, live events, real estate and education are forecast to grow.
According to forecasts, the total VR and AR market size will increase up to 215 billion US dollars by 2021.
In the period from 2016 to 2021 shipments of VR and AR headsets are expected to reach 72 million (this means that according to forecasts the sales will increase seven times within 6 years).
The values look convincing. And given that the main players in the VR market are not going to recede from positions, the forecasts seem quite real, even with certain eventual risks.
What key challenges will VR industry have to settle?
First, the key VR challenges are continued to be tackled:
the high cost of accessories makes them unaffordable for mass users;
required high-power graphics cards and displays with the high resolution increase the cost of equipment as well;
restricted movement freedom due to use of wires;
delays due to low-speed image transfer;
and, as a result, unpleasant physical sensations that users experience using the helmet for a long time (for example, cybersickness).
For example:
Following spider-work on faults and shortcomings, HTC announces a new headset Vive Pro.
compare the resolution of 2880 х 1600 pixels with the resolution of HTC Vive 2160 х 1200 pixels;
integrated headphones and dual microphones;
improved design contributing to better ergonomics;
more freedom due to wireless Intel WiGig technology.
This is the next step on the way to solving the challenges that VR faces in general.
The second major challenge to be settled by the VR industry is lacking diverse high-quality content.
On the one hand, this can be a difficult task, since the virtual reality is a completely "blank sheet" from the point of view of development, and there is no use to hope for a rich previous experience.
On the other hand, the most applications offered today are games. Surely, a user who has paid a certain amount to buy VR accessories will sooner or later think about using them for some other purpose. So, it would be proactively to have a quality VR application now that will allow the user to be immersed in that very world offered by you.
What is the possible use of VR for a social network?
In order to offer the users the possibility to communicate in the virtual reality that they create themselves.
For example:
Facebook released the beta-version of Spaces app, as the social network for Oculus Rift and Vive users.
In the application, you can build your own virtual spaces, invite your friends to visit them, look through the available content, use selfie stick for new content, create 3D objects.
In what way can VR be helpful in the healthcare field?
Virtual simulators have already proved to be an effective tool for training future great doctors. But this is not the only possible option for using VR in medicine.
For example:
The virtual game SnowWorld is successfully used to improve the psychological state of the patients with burns.
The patient appears in a world of ice and snow without anything to remind of the fire that caused so much pain and scores points by throwing snowballs at penguins and snowmen.
Hunter Hoffman, Ph.D., one of the game creators, says that they intended to distract people from thoughts of an accident during wound treatment, as many of them suffer the posttraumatic stress disorder.
SnowWorld transfers the patients into the beautiful world and is developed as a simple game taking into account their restricted movement options.
Due to the game, the patients spend much less time thinking about the pain caused by burns, and this helps reduce the subjective pain and reduce stress.
Are you an owner of the clothing shop?
Provide your clients with the opportunity to quietly wander through the virtual selling floor, create a new look and try on the things they like.
Do you manage a successful AdTech or MarTech company?
Consider the fact that any data collected can be viewed using AR or VR technology. The virtual meetings can be held together with your clients and colleagues amid various graphs, diagrams, where anyone can physically change or correct them.
Are you the owner of the exciting social media resource?
Just imagine to what extent the number of your resource visitors will increase in case they will be able not only to view the content, but (albeit virtually) to visit the event you are talking about, or visit the places where things happened.
Anyway, you are the only person to know for sure, what stage of your company activity is reasonable to be supplemented with VR or AR.
Virtual Reality App Development
"Why shouldn't people be able to teleport wherever they want?" Palmer Luckey, founder of Oculus VR
So, you have got an idea of a VR application for business. The idea that you do not want to gather dust, but which asks to be brought to reality.
To have such a virtual reality application built, you will need a team with experience in developing both VR applications and applications for business. Considering that the majority of existing VR applications are games, make sure that the team is aware of the logic of building business applications. Or search an experienced team of developers in the field of business apps, which will engage virtual reality developers for your app. Keep in mind, that along with the user-friendliness, appealing design, and true sensations, the application must work for its intended purpose.
As for how much the VR application development costs, it will depend on several factors:
aim and functions of your future app: the more features you plan, the more effort and time requires the development, which will affect the price as well;
level of the user interaction with the virtual environment: VR is not just 3D video viewing, this means immersion and presence effect. The rate of the user immersion into the world of your app will have impact on the cost as well;
the platform for your future app: for example, applications for mobile virtual reality (Google Cardboard, Google Daydream), in general, are simpler than those for headsets (HTC Vive, Oculus Rift). Therefore, consider in advance, which specific target audience you are aimed at, and which features are vital for your specific product.
third party SW integration: if you plan any, this will eventually increase the total cost of the app creation;
developers team: in case your company is none of the major players on the VR market, but you find it reasonable to create a VR app for your business, the remote team appears to be a proper choice. The cost paid to such a team to develop a VR app will vary depending on their geography, approach to process management applied, and technologies used.
FOOD FOR THOUGHT:
VR industry is experiencing growth and has favorable prospects for further successful development;
currently, the development of VR technology receives significant investments on the part of the big players;
VR application scope is expanding, and the technology has a lot of potentials, more so, when combined with the increasingly popular AR technology (assuming VR and AR are complementary technologies, not competitors);
VR application created for business will attract users through innovation and open new opportunities for clients interaction;
the cost of developing a VR application will be composed of several factors to be thought out in advance;
if your company does not specialize directly in the VR area, find a remote development team that can implement your idea in a technically correct way in compliance with the logic of business processes.
For some people, your future VR application will become a guide and assistant in decision-making. And maybe it will help someone to get to any place that is not to be reached in any other way, and you will fulfill his/her dreams, or the VR reality you create will teach someone to avoid mistakes, and you will save his/her life or health.
Whatever it is, VR reality is the future that has already come. And you are able not only to see and touch it but also to create it yourself. Go for it!
Photo: Shutterstock.com